Published on Thu., September 29, 2016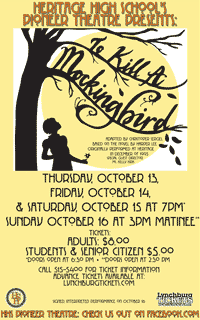 The students and staff of Pioneer Theatre are excited to entertain fans in their brand new theatre with a performance of To Kill a Mockingbird.
Show dates and times are as follows:
Thursday, October 13, 7:00 p.m.
Friday, October 14, 7:00 p.m.
Saturday, October 15, 7:00 p.m.
Sunday, October 16, 3:00 p.m. (signed)
Tickets are $8 for adults; $5 for students and senior citizens. Pioneer Theatre does not take reservations. Tickets may be purchased in advance through www.LynchburgTickets.com. Some tickets may be available at the door prior to a performance. Advance purchase is recommended. 
Doors open one half hour before the show.