Published on Tue., October 25, 2016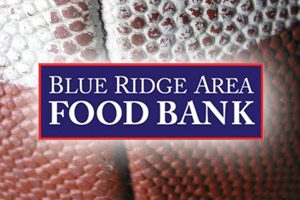 The students and faculty of E. C. Glass and Heritage high schools are teaming up to help local families in need for Thanksgiving with the 6th Annual Turkey Challenge. As many area families struggle to get their daily food during tough times, the students and faculty at these rival schools have come together to do something positive for their community. As the holidays approach, thousands of families will rely on the Blue Ridge Area Food Bank, which serves nearly 18,000 people in the Lynchburg area, for their holiday meals.
The goal is to gather 400 turkeys for struggling Lynchburg families. Anyone in the community can help. Athletic directors are gathering $15 donations for the Food Bank or collecting pledges for whole frozen turkeys. Fans may bring the turkeys to the E. C. Glass vs. Heritage game on Friday, October 28 at City Stadium. In exchange for their donations, donors will receive two tickets for the game. The Blue Ridge Area Food Bank, will have a refrigerated truck at the game to accept turkeys.  
When: Game - Friday, October 28, 2016 at City Stadium at 7:00 pm. Results for the team collecting the most donations will be announced at half-time.
To Donate: Send monetary donations to either:
Elizabeth Masencup
E. C. Glass High School
2111 Memorial Avenue
Lynchburg, VA 24501 

Dennis Knight
Heritage High School
3020 Wards Ferry Road
Lynchburg, VA 24502

OR

Bring your monetary donation or whole frozen turkey to the E. C. Glass vs. Heritage game Friday, October 28, 2016.