Published on Fri., November 18, 2016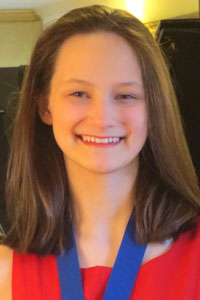 The Virginia School Boards Association's (VSBA) Fifth Annual Student Video Contest challenged high school students across Virginia to create a 30-second video around the theme of "Workforce Readiness."
Of the 89 submissions, E. C. Glass High School student Catherine McCord earned honorable mention.   
Click here to see her video titled "Be Workforce Ready."
Catherine, who is a 16-year-old senior, has received several accolades in her young filmmaking career including her most recent recognition at the White House for being a finalist in the South by South Lawn film festival for her film titled "A Dad's Letter." As a seventh grader at Dunbar Middle School, Catherine was the winner of the 2013 Samsung Superhero contest in her humorous characterization of Albert Einstein.