Published on Mon., January 29, 2018
Pioneer Theatre
Les Miserables (School Edition)
February 16-17 & 22-24 at 7:00 p.m.
February 18 at 3:00 p.m.
Heritage High Auditorium
Music by Claude-Michel Schonberg; Lyrics by Alain Boublil, Herbert Kretzmer and James Fenton; Book by Claude-Michel Schonberg and Alain Boublil; English adaptation by Trevor Nunn and John Caird; Based on Les Miserables by Victor Hugo
Set in early 19th-century France, the story of Jean Valjean, a French peasant, and his quest for redemption after serving nineteen years in jail for having stolen a loaf of bread for his sister's starving child. Valjean decides to break his parole and start his life anew after a kindly bishop inspires him by a tremendous act of mercy, but he is relentlessly tracked down by a police inspector named Javert. Along the way, Valjean and a slew of characters are swept into a revolutionary period in France, where a group of young idealists make their last stand at a street barricade.
Tickets are $12 for adults and $8 for students/senior citizens. Advance tickets available online at www.lynchburgtickets.com. Doors open one half hour before the show. Call 515-5400 for more information.
Glass Theatre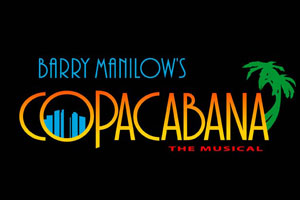 Barry Manilow's Copacabana The Musical
February 9-10, 15-17 at 7:00 p.m.
February 11* at 2:00 p.m.
E. C. Glass Auditorium
E. C. Glass Theatre continues its proud tradition of major musical productions with this area premiere of Barry Manilow's Copacabana, made possible by show sponsor Depot Grille Lynchburg. In a delightful twist this year, Glass Theatre is teaming up with the hugely popular regional jazz, funk, and R&B band Apple Butter Soul, who will perform the live music to accompany this show!
Audiences will delight in Copacabana's splashy production numbers and many brand new Barry Manilow songs. A return to traditional American musical theatre flair, this show has something for everyone.
"Her name was Lola. She was a showgirl…"
So begins this tale of romance & stardom that has captivated audiences across the globe. With sensational originality, Copacabana is a show that will leave you breathless.
Stephen, a present-day, aspiring songwriter, is in the midst of writing a tune that tells the story of Lola: fresh off the plane from Tulsa, she arrives in New York with showbiz aspirations. Tony is a bartender/composer who falls in love with her and helps her become a Copa girl. Lola, of course, attracts the amorous attentions of Rico.
When Rico goes a bit too far by abducting Lola and taking her to his rival nightclub in Havana, Tony and the whole Copacabana crew set off to rescue Lola!
Tickets are good for any performance and are available online at www.ecglasstheatre.org/box-office and at retail outlets: Bloom by Doyle's at 4925 Boonsboro Road and the Lynchburg Visitor's Center downtown. Tickets also go on sale at the E. C. Glass Box Office one hour before each performance. Prices are $12 for regular tickets and $8 for seniors/students. For more information, email glasstheatreboxoffice@gmail.com or call 515-5370 x82017.
*The February 11th performance will be signed for the hearing impaired.
Dunbar Theatre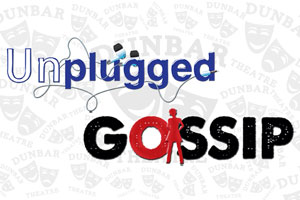 An Evening of One Acts
February 2 & 3 at 7:30 p.m.
Carl Anderson Performing Arts Auditorium at Paul Laurence Dunbar Middle School for Innovation
UNPLUGGED by Laurie Bryant
directed by Albert Carter
A wealthy tech mogul challenges the residents of the most wired town in America to live without technology for 30 days. Can they do it? Are they better off without it?
GOSSIP by Brian Hampton
directed by Erin Foreman
A group of high school theatre students befriends a charming yet sinister new student named Gossip, who secretly manipulates and twists the truth to get what she wants.