Published on Fri., March 9, 2018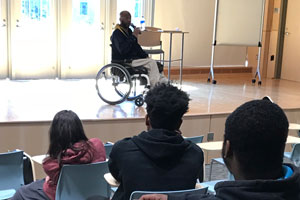 Guest speaker and Heritage High School graduate Ray Dyke (Sugar Ray) shared his near-death experience following a 1993 crash caused by a drunk driver with several classes of driver's education students.
Joined by his pet, a friendly bearded dragon who further engaged the students, Sugar Ray spoke with classes throughout the day. He shared pictures of the mangled vehicle in which he was a passenger and only survivor. He discussed the crash and the struggles that followed, including 37 surgeries to date, guilt associated with surviving the experience when his friend and others died, and feelings of burdening his family with his condition.
Through all his struggles, though, he says, "I made it an asset instead of a liability."