Published on Thu., February 22, 2018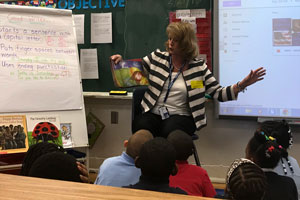 Who knew engineers could design roller coasters and create apps? The first-grade students at Bass Elementary School learned this and much more when Framatome teamed up with Lynchburg City Schools to celebrate Engineers Week.
National Engineers Week takes place in February. Each year, Lynchburg City Schools welcomes local engineers into the schools to talk about engineering and inform students about this exciting career path. 
The National Engineers Week theme "Engineers: Inspiring Wonder," showcases the mission to introduce engineering to students and engage them in hands-on activities taught by real-life engineers and technicians.
This year, engineers from Framatome visited several schools, including William Marvin Bass Elementary School, to inspire wonder and be a role model to local students. At the elementary schools, engineers read the book "Marie's Electric Adventure." This book took students on the journey to discover how electricity and nuclear energy power the world.
Following the book reading, students were asked several question about what they want to be when they grow up. Many students were surprised and pleased to learn that some of their career goals, including working in a theme park, could be met by becoming an engineer. Who knew?