Published on Wed., September 19, 2018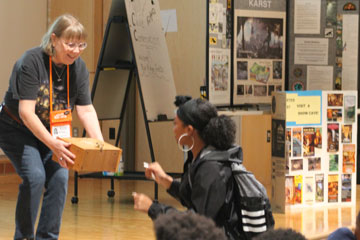 Heritage High School science students celebrated "Cave Appreciation Day" with a visit from caving experts connected with Blue Ridge Grotto. 
Students and teachers enjoyed a lengthy question and answer session with Mary Sue Socky, Dave Socky, and Marian McConnell, author of Murder Hole, a non-fiction book about the cave in Botetourt County after which the book is named. The group has also developed documentaries about the cave and its history. During their visit, they connected interesting facts about caves to the students' current science instruction. Students learned about how cave critters get their food even if they never leave their environment (no, they don't call for pizza). They also learned what the most dangerous animal in a cave is—a person. According to the experts, people entering caves have the potential to create more damage to the environment than any other critters.
The three experts left the students with some valuable advice as well. "Remember, you can do anything you set your minds to," they said. And also, "don't go into a cave that floods when it's raining outside." 
This opportunity was made possible through funding from the Lynchburg City Schools Education Foundation.