Published on Fri., May 24, 2019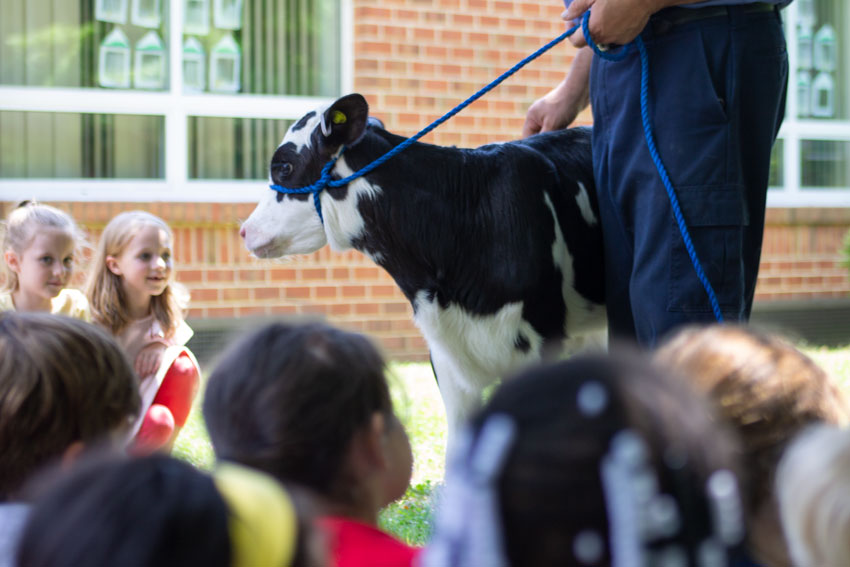 Bedford Hills had some special guests visit the students to promote the school's recent partnership with the Homestead Creamery to pilot local, self-serve milk for two LCS elementary schools. 
Two calves from Homestead Creamery (and their human representatives) visited Bedford Hills as the school highlighted the new program's success. Perrymont Elementary School also is part of the pilot program. Both schools are among the first in Lynchburg to serve locally produced milk as part of the school nutritional program. 
Through a grant, the Dairy Alliance provided over $11,000 in equipment, including three milk dispensers and two refrigerated counters on which the dispensers are placed and the 5lb bags of milk are stored. LCS School Nutrition purchased plastic cups and dish machine racks for Perrymont and disposable paper cups for Bedford Hills. The pilot program started at Bedford Hills on May 1, introducing the school's 5th graders to the new procedure. The 3rd and 4th grades followed on May 7. At Perrymont, the students launched into the local milk pilot later in May with grades 3 through 5.  By the end of the month, all grades should be ready to receive Homestead Creamery milk as part of their school lunch this month. 
The goals of the pilot are:
to increase student consumption of milk, recognizing the specific health benefits of milk to children,
to support the local economy and agriculture, and 
to reduce the environmental footprint by reducing the amount of trash from milk cartons and long distance transportation.