Published on Mon., July 1, 2019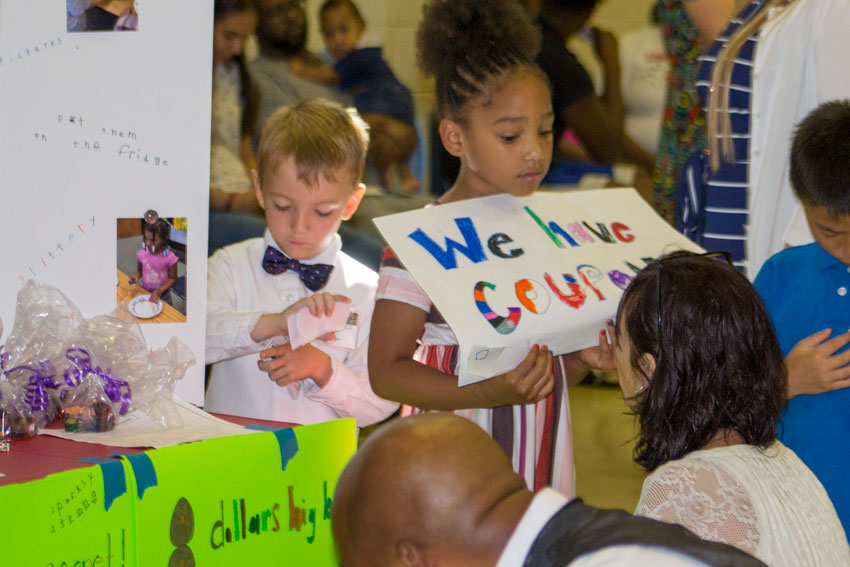 The Center for Economic Education at The University of Lynchburg and Perrymont Elementary School's 21st Century Community Learning Center program conducted summer Market Day in June. Forty elementary school students (1st-5th grade) from Perrymont Elementary participated in the event. 
These students have participated in classroom mini-economies at their respective schools. The students learned skills of entrepreneurship, economics, and government in a classroom setting. They have established their own classroom currency, earned income by performing classroom jobs, and started their own classroom business. Additionally, they paid taxes, applied for classroom business licenses, purchased resources for producing goods and services, calculated profit for their business, and participated in a currency exchange for market day currency. 
The mini-economy program is a motivator to learning that uses active learning and contains many teachable moments. During Market Day, students experienced the laws of supply and demand. They have gone beyond memorizing terms and definitions. Through their experiences in the market, economics has come to life! 
Market Day was the culminating event of the program during which students opened their businesses and competed for awards in the following categories: Outstanding Entrepreneur and Outstanding Marketer. Local business leaders served as judges. 
The mini-economy program and Market Day is conducted by the Center for Economic Education at The University of Lynchburg, an affiliate center of the Virginia Council on Economic Education. The City of Lynchburg's Economic Development, Opportunity Lynchburg sponsors the program locally.