Published on Fri., May 26, 2023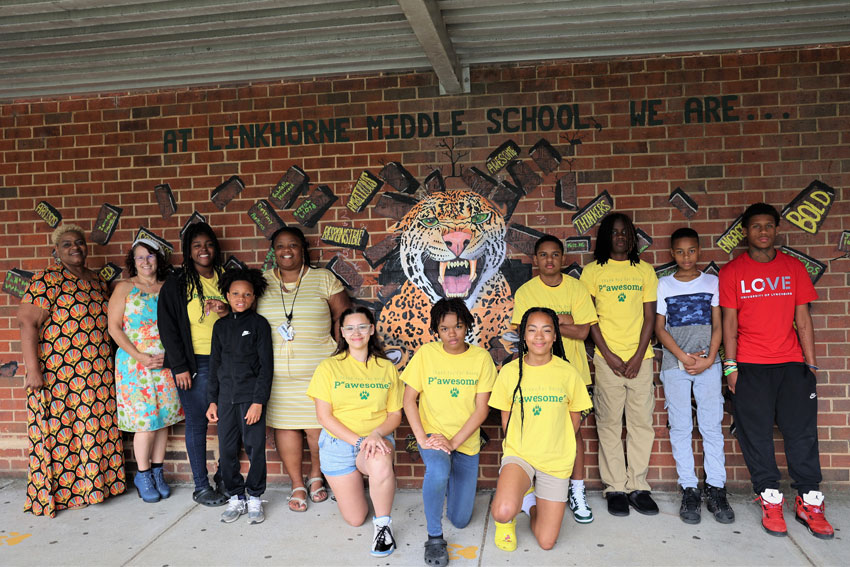 Walk the halls of Linkhorne Middle School, and you'll find the scenery more colorful than it was when the school year started. For months, student members of the P'Awesome Leadership mentoring program have worked together to create three murals and a large sculpture—now permanent installments on campus. On Tuesday, they added the finishing touches.
But the students' artwork is more than just an attractive addition to the atmosphere. Under the guidance of local artist Kimberly Redding, this project has afforded them unique opportunities to express themselves through art, build self-confidence, and form new friendships.
"Middle school is a challenging time for our students," said P'Awesome Leadership mentor Selina Morgan. "They're just really trying to find themselves, and they need a safe space and a safe person to help them navigate that space."
The mentors are local adults who are active in community youth organizations like the Young Women's Empowerment Academy and the Jubilee Family Development Center. They form supportive relationships with the students, encouraging them to excel academically and practice good conduct. Through regular check-ins, weekly group meals, and projects like this one, they strive to create an environment in which students are free to be themselves.
"A lot of the kids that are part of the group don't feel like they have people they're able to talk to. Having the mentors here helps with that," said Linkhorne Middle student and mentee Jordyn Cordova.
The program is new this school year, but students are already seeing marked improvements in their grades and behavior. For some, the mentors' support represents the extra push they needed to start excelling.
"I believe representation matters. When the kids see someone who they can relate to, who they can talk to, who understands them, they're more willing to accept instruction from that person," said mentor Devon Stewart.
The centerpiece of the project is a mural depicting Linkhorne Middle's mascot, a jaguar, bursting out of a brick wall in the courtyard. Incorporated into the piece are words like "engaged," "responsible," "ambitious," and "focused." Each mentee has signed their name in paint on the wall–a symbol of their commitment to embody these qualities.
"It's here to help encourage kids. We want them to know that school can be hard, but that they're worth it, and in the end everything will work out, and they'll be fine," Cordova said.