Published on Mon., March 26, 2018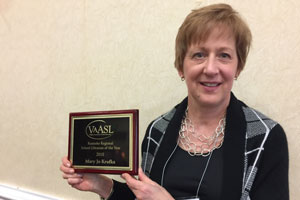 Linkhorne Elementary School's Mary Jo Krufka was this year's recipient of the regional Librarian of the Year award presented by the Roanoke region of the Virginia Association of School Librarians. Ms. Krufka was nominated by her colleagues and honored during a reception in March.
LES principal Karen Dearden and other LES faculty and staff members described some of the reasons they nominated Ms. Krufka for this award.
She has been the "above and beyond" library-media specialist at Linkhorne Elementary School for the past five years. Her dedication to our students, staff and families knows no bounds. Her love for reading is contagious and is clearly evident in everything she does at Linkhorne Elementary School. From her sometimes outrageous (and always hilarious) themed Book Fair costumes to her author visits and Family Book Clubs, Mary Jo works  to instill an excitement for reading for all, including our youngest Kindergarten students to the parents and grandparents of all our children. I have worked with many librarians throughout my career in education and truly feel that Mary Jo Krufka is "one of a kind!"  She is truly deserving of this honor and we are so thankful to have her on our LES team.