Published on Wed., May 1, 2019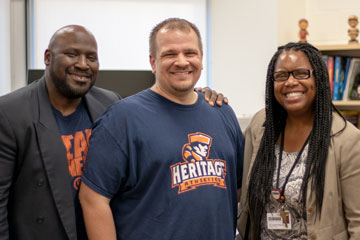 Andrew Napierkowski, Heritage High School math teacher, has been selected by Lynchburg City Schools as the 2019 Teacher of the Year.
Mr. Napierkowski is an outstanding leader for both his students and his colleagues. He serves as the math department chair at HHS as well as a member of the school improvement and Gear Up teams.
"It is a true honor to have him in the educational profession," said HHS principal Tim Beatty in his letter recommending Mr. Napierkowski for consideration. "Andrew is a hard working teacher, and his commitment to the school is self-evident." 
Through the use of hands on learning and innovative instruction, Mr. Napierkowski has been a source of encouragement and motivation for his students inside the classroom. In his own philosophy of teaching, he emphasizes building relationships and creating inclusive learning environments. He models this by being a team player who also extends his instruction beyond the classroom, offering assistance and remediation when needed, even after the school day is over. He believes in challenging and preparing students to become life-long learners.
Congratulations Mr. Napierkowski, our 2019 LCS Teacher of the Year! 
Also, LCS thanks these sponsors who supported the teacher of the year with their gifts and donations:
Lynchburg Nissan (one year lease of Nissan Altima or Rogue)  
Amazement Square (Flex Square Membership)
Charley's Restaurant ($25 gift card)
Academy Center of the Arts ($50 gift card)
YMCA of Central Virginia (three month family membership)
Renaissance Theater (two tickets to upcoming performance)