Published on Fri., March 5, 2021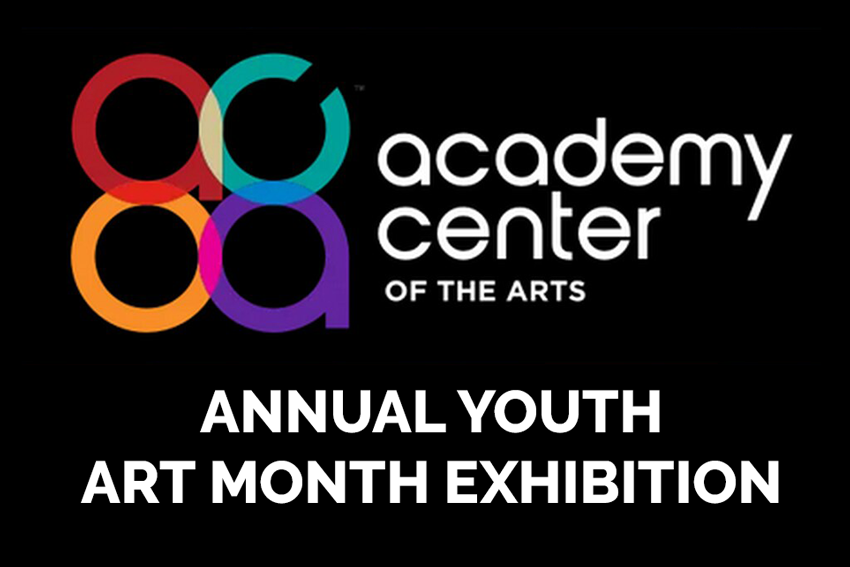 Congratulations to the following Lynchburg City School students whose artwork is on display in the Academy Center of Fine Arts Annual Youth Art Month Exhibition:
Elementary School
Luna Acosta, Gavin Baird, Mia Baird, Kalynn Bryant, Kalisteth Burrows, Sierra Calloway, Zoey Carter, Lucy Council, Rachel Council, Nevaeh Cunningham, Alex Curran, Rosalie Cyphert, E'nyija Davis, Tara Davis, Nicholas Dibble, Hartley Evans, Gabriel Franko, Layah Freeman, Ashaud Greene, Liam Hahn, Kendall Hamilton, Jamera Jennings, Hadley Jones, Lindsey Jones, Lona Jones, Kathleen King, Sana Kurdi, Andrew Lee, Terence Lockett, Dakayda Marshall, Madison McKendree-Abbott, Jude Meador, Skyy Moore, Lillyan Murphy, Kolbie Neas, Davaieh Patrick, Quin'Tavius Patterson, Alexis Perez, Quinn Perkins, Audrey Pierce, Dylan Gálvez Ruiz, Masen Runnell, DJ Saunders, Matilda Shifflett, Audrea Simmons, Nevaeh Simmons, Caroline Smith, Zoey Smith, ZiMira Steeples, Albert Velasco-Cardona, Gabby Villalon, Avery Wiebe, Tinsley Wood, Armonee Wright, Adam Yates
Middle School
Ella Banner, Spencer Brown, Madison Cole, Eli Colier, John Corazo, Jeremy Davis, Emily Duncan-Whiteman, Kamari Dyson, Lucy Guzlowski, Savannah Hicks, James Hite, Kiya Jamerson, Sean Kelly, Reese Korby, J.T. Osborne, Tanner Malone, J.P Mancer, Ma'Kayla Manning, Joshua Pannell, Ja'Kiya Patterson, Donovan Hawkeye Pierce, Chloe Portnoy, Renya Russell, Tiffany Skilton, Ella Stowers, Tianna White, Derrian Womack and Destiny Word
High School
Jada Anderson, Abraham Bell, Jaylin Boling, Anyah Cabler, Nathalia Carreno, Tamara Cash, Gillian Ceballos-Kirby, Hannah Chi, Alice Milea Ciobanu, Kiara Cobbs, Joshua Cleaver, Amirah Dean, Brooklyn Dopp, Isiah Dove, Mykali Eades, Mikhail Elliot, Elizabeth Eskridge, Riley Finnegan, Sage Grant, Annanda Graves, Kiara Grimes, Maria Gutierrez, Atorria Hairston, Brittany Harris, Zechariah Hammet, Xiomara Hill, Laura Honeycut , William Hunt, Grayson Laughon, Eli Maxson, Ellis McCall, Katharine Ore, Jake Pabis, Caelan Patterson, Christian Presley, Ella Rhodes, Tayrell Richardson, Kya Rucker, Claire Schroder , Sarah Short, Saniyah Smith, Miranda South, Linnea Supman, Tayyaba Tahir, Kayla Tidwell, Maia Toler, Indra Velasco, Rebecca Wigboldy, Jenny Zhang
This wonderful exhibit of student art will be on display for the entire month of March in the Academy's Warehouse Theatre Lobby. Please contact Ted Batt (tbatt@academycenter.org) at the Academy for viewing information.
We would also like to congratulate Savannah Hicks (Dunbar), Spencer Brown (Sandusky Middle), Piper Thompson (Sheffield), Sarah Belony (T. C. Miller), Natalie Uhl (E. C. Glass), Hannah Chi (E. C. Glass), Erin Mosby (Bass), Brooks Sexton (Bedford Hills), Maria Gutierrez (Heritage High), and Tammy Cash (Heritage High). These students are being featured in the Academy's "Virtual Student Highlight," and their interviews will be posted to the website, two at a time each day starting Monday, March 1-Friday, March 5, in the order they are listed above. Please click on the link below to view the artwork and interviews of these Lynchburg City School students.