Published on Tue., March 1, 2022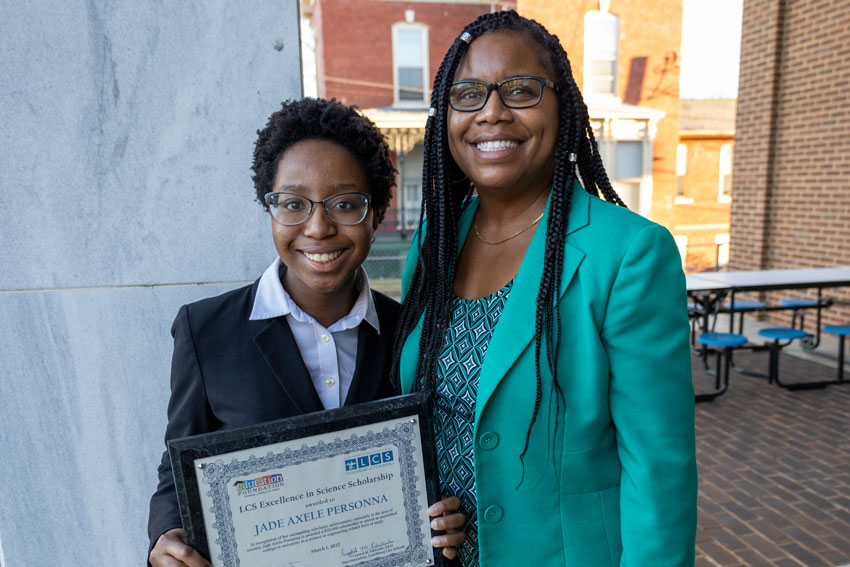 Lynchburg City Schools (LCS) is pleased to announce that E. C. Glass senior Jade Personna is the recipient of the 2021-22 LCS Excellence in Science Scholarship. Ms. Personna was recognized during this evening's school board meeting.
Ms. Personna attends the Central Virginia Governor's School for Science and Technology each morning, then returns to her base school of E. C. Glass High School, where she takes two Advanced Placement courses each afternoon, as well as wind ensemble and is a member of the Marching Band, Environmental Action Club, and Key Club.
Jade Personna has been interested in sustainability since elementary school as demonstrated by her persuasive essay on why schools should recycle. Passion for the environment grew as Jade grew which led to volunteer efforts such as organizing monthly park clean-ups for student volunteers and serving as the president of the E.C. Glass Environmental Action Club.
At the Central Virginia Governor's School for Science and Technology, Ms. Personna conducted a research project on the feasibility of using piezoelectricity–a way of producing electrical energy from mechanical pressure–to create a self-powered calculator. This was particularly impressive to the Scholarship Review Committee and, more importantly, was presented at the 2021 International Science and Engineering Fair and won 4th place!
In addition to this award, in 2021, Jade Personna also received the regional United States Agency for International Development Science Champion Award and the Central Virginia Regional Science Fair Grand Award in Physical Science.
Ms. Personna held an engineering internship at the Thomas Jefferson National Accelerator Facility and has volunteered for weekly STEAM classes at the Lynchburg Public Library Youth Services Program since 2018.
During college, Ms. Personna plans to pursue a degree in civil engineering with a minor in sustainability with the hopes to conduct more research on alternative energy sources including the potential of energy harvesting to lower our reliance on fossil fuels and other environmentally damaging sources of energy. She has a plan to secure advanced degrees and has an eventual goal to work for an engineering firm that specializes in practices such as designing carbon neutral and Leadership in Energy and Environmental Design (LEED) certified structures.
This Lynchburg City Schools Scholarship, originally founded by the family of Dr. Charles & Mary Jane Pryor, is now a $30,000 scholarship to a single top science or engineering Lynchburg City Schools graduating senior each year for a total of 5 years and is funded by BWX Technologies, Inc., DTE Energy Foundation, Framatome, Mr. & Mrs. Lee & Sharon Ainslie, and Dr. & Mrs. David & Judy Frantz, and Dr. and Mrs. Charles & Mary Jane Pryor. The LCS Education Foundation serves as the fiscal agent and facilitates this scholarship. This is the fourth year of five that this scholarship has been offered.