Published on Tue., May 3, 2022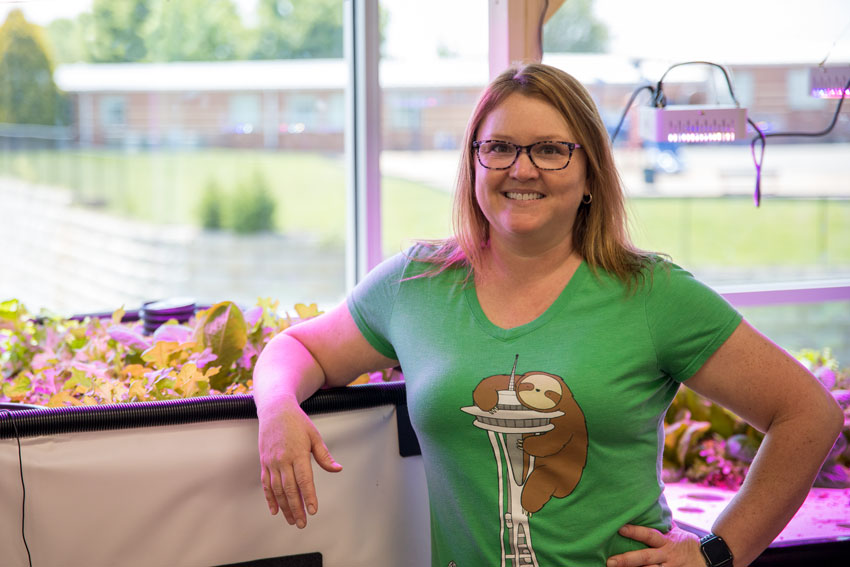 Cathy Drumheller, Heritage High School teacher, has been selected by Lynchburg City Schools as the 2022 Teacher of the Year. Mrs. Drumheller is an outstanding example for both her students and her colleagues. Her dedication to students and her passion for teaching and learning is evidenced by her ability to engage students in science using aquaponics in the classroom, sponsoring the Lynchburg Students Rise and Project Inclusion, as well as many other contributions to the school community and division.
Heritage High School Principal, Tim Beatty, stated in his letter recommending Mrs. Drumheller, "I have had the pleasure of knowing and working with Mrs. Drumheller as biology teacher for the past 13 years." Her effective incorporation of technology, engaging lessons, and content knowledge captures student attention and trust, and inspires them to learn. She stated in her interview that "True education is conversations, and those conversations in the classroom are truly teaching because it means the students are engaged and learning." 
Her goal is to connect the classroom with student potential outside of the classroom through meaningful conversations and connections. In her philosophy of education statement, she says that  when she "first began teaching in 2005, I had no idea what a journey I was about to embark upon. Through the years, I've had many highs and lows in my job; joy and sadness, achievement and failure, progress and setbacks. What I've come to learn over the years is that education is an adventure, and each day is an opportunity."  Thank you for sharing your educational journey with your students and colleagues at LCS.     
Congratulations Mrs. Cathy Drumheller, 2022 LCS Teacher of the Year!