Published on Wed., November 2, 2022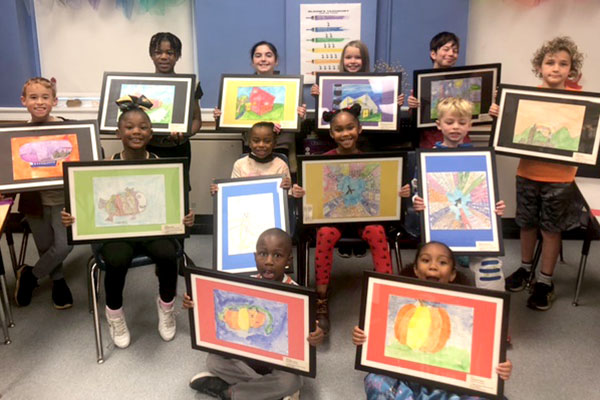 Come and enjoy the first "Art in the Airport" exhibit at the Lynchburg Regional Airport! Twelve students from T. C. Miller Elementary School for Innovation will have their artwork on display at the airport throughout November for National Aviation Month.
 
This exhibit is made possible by the Lynchburg Regional Airport and Lynchburg City Schools, with a special thanks to Architectural Partners.
About the Exhibit
After learning about primary and secondary colors and color mixture, kindergarten students studied watercolor techniques and the artwork of Alma Thomas. You will see the influence of all of these lessons in their "Pumpkin Patch" paintings. 
During the month of October, first grade students studied Oaxacan art. The "Oaxacan Fish" and "Oaxacan Octopus" represent the wonderful variety of sea creatures the class created.
For their first lesson in one-point perspective, second grade students created fabulous "ant point of view" drawings/paintings of a cityscape. The students "City Sky" and "Middle of the City" artwork includes an airplane in honor of National Aviation Month.
Also in honor of National Aviation Month, third grade students learned how to illustrate various aircraft. After studying multiple drawings and paintings that include airplanes, blimps, hot air balloons, UFOs and flying cars, the students created their artwork. The "Flying Car" and "Blimp" watercolor pencil paintings are wonderful illustrations of the students' imagination and creativity. The third grade students will also build sculptures of their chosen aircraft.
Thanks to Architectural Partners, both the fourth and fifth grade students are receiving a complete unit on architectural design. The students learned about elevations, floorplans, model making and final construction. Their "Big Red House," "Football House," "The Modern Lighthouse," and "The Lighthouse by the Sea" watercolor pencil paintings are the elevation/illustration portion of their unit. The students will also work on 3-D models of their architecture.