Published on Mon., February 27, 2023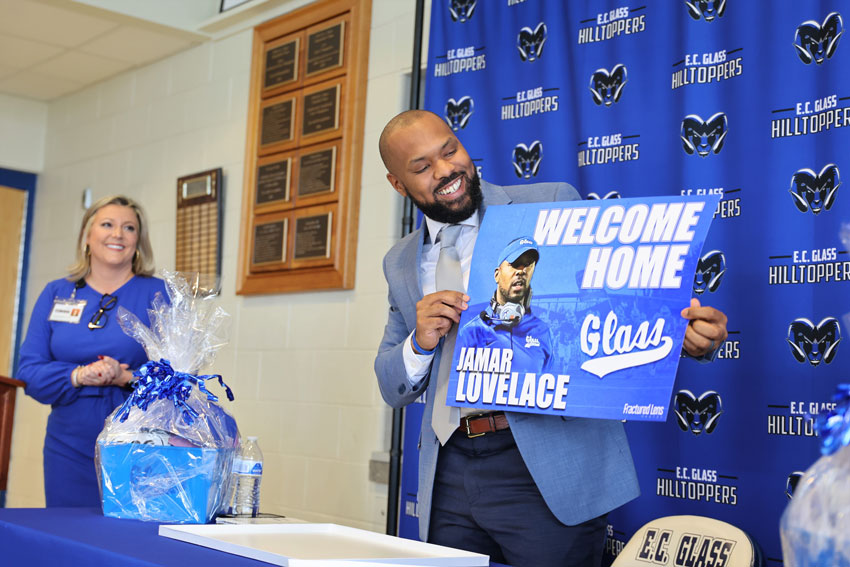 Jamar Lovelace was introduced Monday, February 27, 2023, as the new head football coach of E. C. Glass High School. With 12 years of experience as a high school football coach and teacher, Lovelace most recently served as head football coach and physical education teacher at William Fleming High School in Roanoke, VA. 
He returns to E. C. Glass after serving as defensive coordinator coach from 2015 to 2018. His appointment is historic, as he is the first African American to serve as high school head varsity football coach in LCS since the division was integrated in 1970. 
A record of success follows him to E. C. Glass. In 2018, Lovelace took over Fleming's 0-10 football program. The team had only competed in the playoffs once in the eight years prior to his arrival, and they hadn't won a playoff game in 18 years. In his five years as head coach, the team appeared in the playoffs three times, notching three playoff victories. Under Lovelace's leadership, Fleming won the Region 5D championship in 2021. 
Lovelace's accomplishments didn't go unnoticed. In 2021 and 2022, he was named Blue Ridge District Coach of the Year. 
Perhaps the most rewarding parts of his career at Fleming, though, were the student success stories he helped shape. He pushed the team academically and saw the average team GPA rise significantly as a result. He recalls that 11 of the students he coached went on to play college football.
"I view football as a vehicle that can take you multiple places in life. One of my biggest dreams as a high school coach is to help students get opportunities to play in college," Lovelace said. 
Lovelace returns to E. C. Glass with victories for the football program already under his belt. During his time as defensive coordinator coach at E. C. Glass, the team celebrated their only win against Heritage High School in the last 14 years. 
Prior to his time at E. C. Glass, he served as a social studies teacher and defensive coordinator at Monticello High School in Charlottesville, a history teacher and assistant coach at Brookville High School in Lynchburg, and an assistant football coach at Hampden-Sydney College. 
"We're thrilled to welcome Jamar back home to E. C. Glass. This team has a bright future ahead of them, and I'm excited to see them thrive under his leadership," said E. C. Glass Athletic Director Elizabeth Masencup. 
Equally as important as Lovelace's passion for football is his love for education. He emphasizes the use of football as a tool for all-around personal development translating into success in the classroom. 
"I'm an educator first. I'm a guy who happens to love football, and my goal is to help students achieve greatness both academically and on the football field," Lovelace said. 
Lovelace will teach in the physical education department at E. C. Glass. He will also work to develop the LCS middle school football program, piloting a collaborative model that will enhance the transition between the city's middle and high school programs, in this case at E. C. Glass. The program will promote academic achievement, school attendance, exemplary conduct, and character building, fostering growth that will follow students well beyond graduation. 
"We're bridging the gap between middle school and high school football in Lynchburg. We want what we're doing in varsity football to trickle down into our middle school programs, focusing first on developing young people for long-term success off the field and developing the playing skills needed for team success on the field. We're continuing to develop our programs to best serve the next generation of student athletes in Lynchburg City Schools," Lovelace said.