Published on Fri., March 10, 2023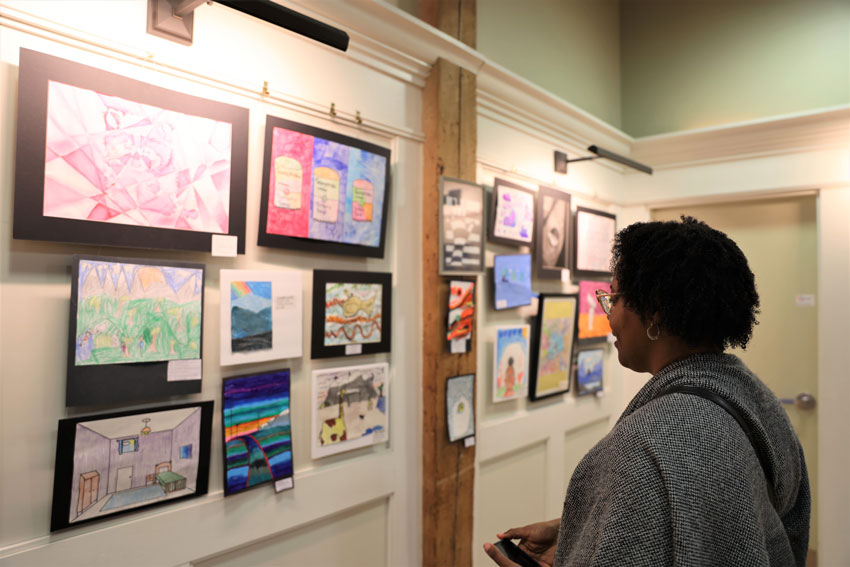 As families trickle into the BWXT Youth Gallery and scan the walls for their children's art, reverent murmurs turn into excited chatter. Bedford Hills Elementary School fifth grader Eliza Manley stands proudly under her piece, a dizzying swirl of abstract colors.
"It makes me feel really proud to see my art up there. Doing art is a way to help me express myself and let out all my worries," Manley said. "It's really inspiring to look at other people's art, too."
It's a rainy Friday evening, and the Lynchburg City Schools (LCS) Youth Art Show, hosted by the Academy Center of the Arts, has just opened its doors to the public. The downtown exhibition will display artwork by K-12 students across the division all month long.
March is Youth Art Month, so the display is especially timely as schools celebrate the value art education brings to LCS. A long-standing Lynchburg tradition, the exhibition has opened annually for twelve years. 
"This exhibition is a testament to the hard work and dedication of these young artists, and it highlights our commitment in supporting the Lynchburg City Schools in a meaningful way," said Michelline Hall, the Academy's Chief Programming Officer, in an interview with WSET. 
Ten of E. C. Glass High School art teacher Ashley Marot's students have pieces on display. She surveys each of them with a smile. Color and texture fill the room in an array of mediums, from paintings and drawings to sculptures and mixed media works.
"It's great to be able to support students' creativity and ideas every day. Anyone can be creative–it's just a matter of how you want to express it," Marot said. "Regardless of style, medium preference, vision…you can create."
For Marot, this exhibition represents a chance to celebrate her students by showing the community the work they've been doing. 
"It's a great opportunity to showcase the work that is being done across the division, from elementary school all the way up to high school…I think it elevates the work that they're doing and makes art a real possibility for our students," Marot said.
Indeed, for eighth grader Jamiyah Berger, art is a very real possibility. She's drawn and painted since she was three years old, and she's been refining her skills at Linkhorne Middle School under art teacher Victoria Doughty.
"(Ms. Doughty) helps me push my limits. That push makes me want to do more art and try different styles," Berger said.
She poses with her drawing, a reptile's eye in pencil and marker, as a flock of proud family members clusters around her to capture the moment with their phone cameras. She's been into drawing eyes lately, she explains, as well as abstract art.
"I'm hoping that one day, maybe I can turn art into a career. But right now, I'm just exploring it as a hobby," Berger said. "I like that you don't have to follow the rules—it's more about expressing how I feel."
You can visit the exhibition free of charge through April 1 between 9:00 a.m. and 5:00 p.m. Monday through Friday. The newly-named BWXT Youth Gallery is located in the Academy's Art and Education Building at 519 Commerce Street. The gallery will continue to feature young Lynchburg artists monthly after the LCS Youth Art Show comes to a close.