Published on Mon., May 1, 2023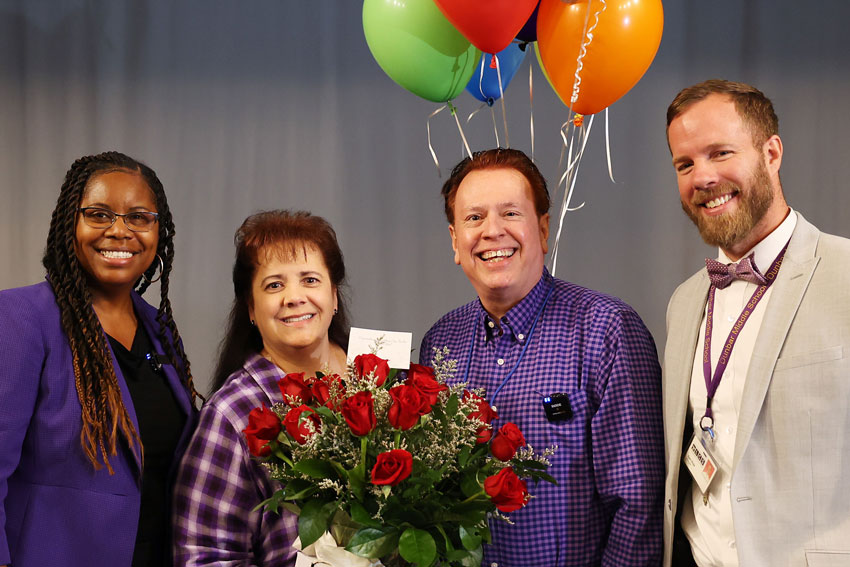 If asked who best embodies the spirit of Lynchburg City Schools (LCS), those who know and love Paul Laurence Dunbar Middle School for Innovation cultural arts teacher Albert Carter would be hard-pressed to find a better contender. And contend he did—Carter has been named the 2023 LCS Teacher of the Year. LCS administrators and Dunbar Middle staff and students surprised him with the news Monday. 
"Mr. Carter embodies the spirit that we hope to see in all teachers. He gives his all to provide a safe, fun, and unique middle school experience for all students," Dunbar Middle principal Dr. Dani Rule said. "He plans for student experiences beyond the classroom and even beyond the borders of Virginia. I'm so proud to have gotten to know him for four of the 32 years he's had here."
Carter has impacted the lives of countless students over the course of his career with LCS. Beginning as a music teacher in 1991, Carter first taught at Heritage, Perrymont, Sandusky, and Sheffield elementary schools. In 1994, he transitioned to Dunbar Middle, where he teaches drama and chorus. He currently serves as Dunbar's choral and theatre director, heading up multiple concerts and theatrical productions every year.
Theatre and music have always been passions of Carter's, and teaching gives him the opportunity to share them with others. "Theatre allows students to expand their way of thinking," Carter said. "It can also help students to develop self-confidence, communication and problem-solving skills, empathy, and an appreciation for arts and culture. These are things they can carry with them the rest of their lives. Making a lasting impact—this is the power and responsibility of being a teacher."
Carter, along with his wife and co-producer Lori Carter, has built a theatre program at Dunbar Middle that is raising the bar for performing arts departments everywhere. Dunbar Middle students perform in some of the highest-caliber productions in the region. At the national Junior Theatre Festival this January, Carter's students came home from Atlanta, Ga. crowned with the Freddie G. Excellence in Ensemble Work award.
"I am very thankful to have had the opportunity to work in arts education for LCS the past 32 years," Carter said. "I feel incredibly honored to have been chosen as this year's Teacher of the Year."
Next up for Carter is Dunbar Theatre's production of "The SpongeBob Musical," premiering May 19. Buy tickets here.