Published on Thu., August 24, 2023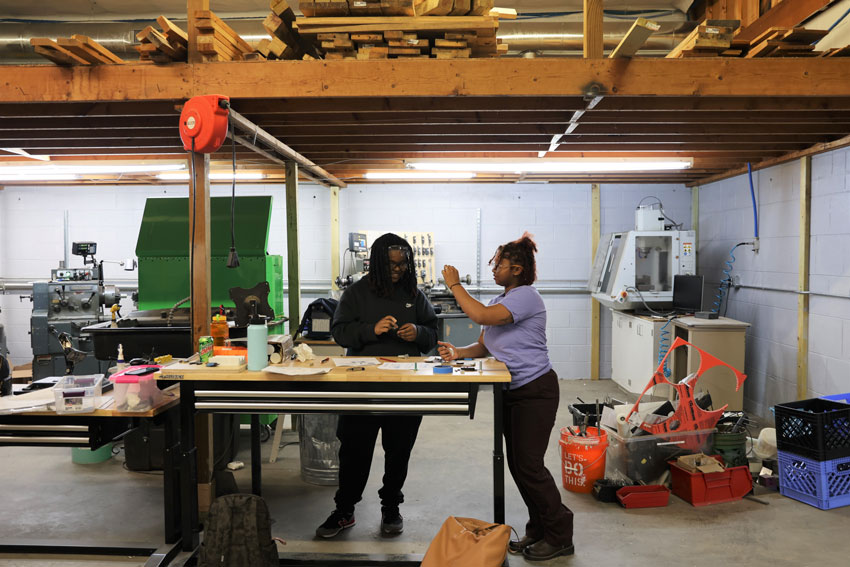 Four women expertly operate lathes and milling machines, their focused silence punctuated by the whirs and buzzes of the equipment. Just two months ago, they were totally new to machining. Guided by experienced mentors, they're quickly gaining hands-on technical skills that will launch them into the next phase of their careers. 
Hosted by local nonprofit Vector Space in partnership with the City of Lynchburg, Lynchburg Beacon of Hope, and Virginia Career Works, Women in Machining is a 12-week program providing mentorship and training to women pursuing new career opportunities in machine tooling. Each member of this year's cohort—the fourth since the program's inception in 2020—is a Lynchburg City Schools (LCS) alumna or employee. 
Program facilitators include substitute instructor and E. C. Glass High School Precision Machine Technology teacher Paul Ewing. "I really enjoyed seeing firsthand how empowering this program has been for its participants. Women in Machining is breaking barriers for them in a heavily male-dominated industry," he said.
To E. C. Glass High School graduate Kori Randolph, this program represents the first step toward her dreams to become a business owner. She's starting an electrical engineering degree at Central Virginia Community College this fall.
"Vector Space gave me the freedom and the range to build things on my own," said Randolph, who first got involved with the organization through programs at LCS. "They helped me realize that making things by hand is my way of life."
Randolph shows off part of the project she's working on: A metal salt-and-pepper-shaker set, meant to put her lathe and milling machine know-how to the test. 
When the pandemic struck in 2020, she hit a slump, falling behind in her schoolwork. Despite the setbacks, Randolph graduated with her class in 2023. She attributes her comeback to the unwavering support of LCS and Vector Space staff.  
"My mentor at LCS really connected me with a lot of great people and programs that helped me to understand that there is a better way, and you can work hard and come back from anything," Randolph said. 
Equipped with both specialized machining experience and vital soft skills training, the cohort will graduate from the program at the end of August. Some, like Randolph, will continue their education with college credit earned through the program, while others will secure entry-level jobs in the field. 
With hundreds of manufacturing and machining jobs in Lynchburg, the skills participants learn add value to the local economy while helping them support their families. Graduates have gone on to work with companies like Belvac, KMW+NEXTER Defense Systems (KNDS), and Buffalo Air Handling. 

Industry-seasoned instructors and special guests from local manufacturing companies share their knowledge with program participants, who meet four times a week.
Perhaps most notably, Women in Machining provides women with accessible opportunities to break into the industry. An overwhelming majority of machinists in the United States are men, but Vector Space Executive Director Elise Spontarelli is determined to help change that. 
"Even if we only did this program for five years, we'd significantly change the numbers in Lynchburg. It's going to be the place where women are machinists," Spontarelli said. "The numbers are so low that even having just 10-15 women in the field is a huge jump from where things are now. It's really exciting to be a part of that."