Published on Thu., August 31, 2023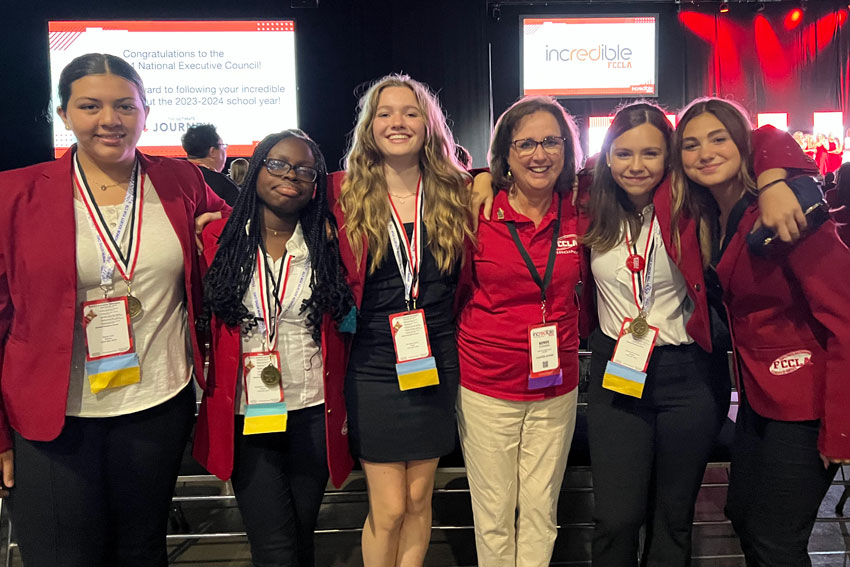 Five Linkhorne Middle School students and one Lynchburg City Schools (LCS) teacher earned national honors at the Family, Career and Community Leaders of America (FCCLA) National Leadership and Recognition Conference in Denver, Colorado last month. The Family and Consumer Sciences (FCS)-focused Career and Technical Education (CTE) conference brought in more than 7,900 students, educators, and guests from across the nation.
"From this experience, I've gained new relationships with people. I've learned time management. I've learned how to work hard and to stick to something and not give up," said student Anna Boyers, who placed second in the nation for her project on entrepreneurship. 
For Boyers and her fellow Linkhorne Middle competitors, the conference bridged the gap between middle and high school. This school year, they're starting at E. C. Glass High School with more developed leadership and public speaking skills. 
The students qualified for the Denver conference by earning first or second place titles at the FCCLA state conference in Virginia Beach in April. At the national conference, they competed against 4,300 FCCLA members in the Students Taking Action with Recognition (STAR) Events. Each competitor identified an issue concerning families, careers, or communities; researched their chosen topic; and developed and implemented a project to move toward positive change. 
"I'm so proud of how these students represented our division on a national level. My students are constantly impressing me with their passion, professionalism, and enthusiasm for learning," said LCS FCS teacher Janet "Renee" Stephens. Stephens accompanied the students at the conference and won the FCCLA Adviser Mentor Award for her dedication to student mentorship. 
Each LCS student earned national recognition:
Anna Boyers placed second in the nation in entrepreneurship, winning a gold medal. 
Addisyn Cruz and Jordyn Cordova placed second in the nation in the sustainability challenge, winning a gold medal.
KaDerrah Bright was named a national finalist in National Programs in Action, winning a gold medal. 
Katherine Lasitter won a silver medal in career investigation. 
FCCLA conferences like this one give students opportunities to develop leadership skills and explore a variety of career paths in fields like human services, hospitality and tourism, education and training, and visual arts and design. They're a chance to expand on the robust CTE program at LCS, where students can build occupational skills all year round.