Published on Thu., September 11, 2014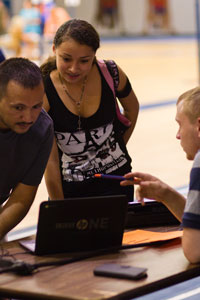 LCS ONE officially kicked off this September when E. C. Glass and Heritage high school freshmen received their individual Chromebooks, the first step in the LCS-ONE initiative.
Each freshman student received his or her own brand new device, straight from the box, and have begun using them in their classrooms.
"We are excited about this opportunity to give students their own Chromebooks, but LCS-ONE is not just about the device," said LCS Director of Technology David Childress. "This initiative is about improving student learning by using the technology to increase student engagement in the classroom and encourage collaboration among students and teachers to build on 21st century skills like creativity, communication, collaboration, and critical thinking!"
The timeline for the LCS-ONE initiative is to provide a personal computing device for all students in grades 4-12 by the 2017-2018 school year. For more information please visit http://www.lcsedu.net/lcs-one.