Published on Fri., January 2, 2015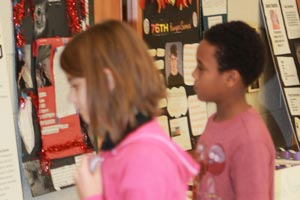 This fall, all sixth-grade students at Linkhorne Middle School participated in a unique incentive called The Jaguar Games, based on the popular book The Hunger Games. The culminating "Victor's Ceremony" took place in December and a number of students went home with prizes won during a raffle.
The four-week Jaguar Games consisted of a challenge to complete each week. Each of these challenges/projects were tied together with something from The Hunger Games as well as what students were currently learning in a particular school subject.
With funds raised by the PTO, every sixth grader was able to read the book and then participate in challenges each week that included an English project during Week 1, a history project during Week 2, a math project during Week 3, and a science project during Week 4.
Prizes were awarded to students each week for their accomplishments, and students who completed a project and achieved a B or higher were invited to the culminating "Victor's Ceremony," where projects were on display and students won prizes during a raffle.  
Parents and PTO members raised the money for the celebration and many volunteered their time to make the final ceremony a success.
PROJECT WINNERS
English Victors
Dylan Young (female)
Drew Flint (male)
English Top 5 Runners Up
A'soni Smith
Yoselin Dela Rosa
Hollins Pierpoint
Alec Neps
Katie Salmin
Math Victors
Joseph Kerns (male)
McKiyah Murray (female)
History Victors
Sean Wiger (male)
Katie Salmon (female)
Science Victors
Helen Sommardahl (female)
Alec Neps (male)
Above and Beyond Award: Completing all 4 challenges with a B or higher
Katie Salmon
Dylan Young
PRIZE WINNERS
Hunger Games Prize Winners
$50 Red Lobster Gift Card – Mya Reid
Movie Package (Candy/movie/dvd) – Anabel Hutchison & Cameron Qualls
Catching Fire Books & Journal – Pooja Balamurugan & Alec Neps
Mocking Jay Book & Journal – Jhaneen Trotman & Jeremy Cunningham
Hunger Games T-Shirt – Grace O'Connell
Study Gym Bag – Anthony Smoot, Isabel Ownby, Dylan Young, Anna Betz
Walmart Gift Card – Aaron Clarke
Target Gift Card – Gia Cummings
Game Stop Gift Card – Alex Everett, Nathan Pawlas
Cathing Fire DVD – Lydia Maca, Dakota Walkup, Leighann Fetterman
Study Prize (Eraser Highligher Rubic Cube) – Ashlee Smoot & Helen Sommardahl
Liberty Snow Flex – Tyler Layne
Mocking Jay pin & HG Ring – Lydia Maca, Jeremy Cunningham and Jackson Miller
Trilogy Set of Books – Ethan McCray