Published on Wed., April 8, 2015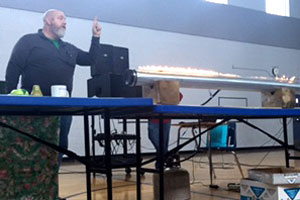 A Sandusky Middle School Physical Science teacher is demonstrating how maintaining positive behavior over an extended period of time can lead to rewarding results.
On Friday, April 3rd, SMS teacher D. L. Moose Pierce joined Randolph College physics professor Dr. Peter Sheldon to put on a science show as an incentive for students who have gone through the grading period with no referrals.
They did a series of large demos for students to see along with a quick explanation of the scientific principles at work.