Published on Mon., August 3, 2015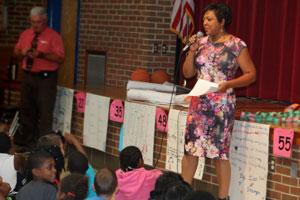 The Linkhorne Elementary School cafeteria was packed with parents and students who attended the PETAL program's last assembly.
Councilwoman Treney Tweedy was the guest speaker for the assembly, and she talked to the students about building relationships within their community.
Student work, including posters and relationship chains, were on display, and third- and fourth-grade students performed a skit to highlight the summer theme on "Building Relationships."
PETAL stands for Promoting Excellence Through Accelerated Learning and is a K-12 program that identifies LCS students with academic potential for achievement at a higher level. It promotes accelerated learning, furthering academic achievement and narrowing the achievement gap. PETAL encourages students to take rigorous, academically demanding classes.