Published on Wed., September 20, 2017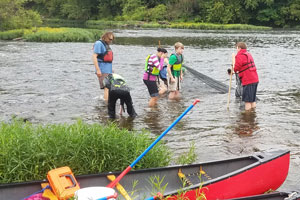 Thanks to the James River Association and a Watershed grant, eighth graders at Linkhorne Middle School were able to spend a day on James River earlier this school year.
The program included three stations, including an introductory canoe paddle program, instruction on the Chesapeake Bay watershed, and biotic sampling of the river.
During the introductory paddle program, students received a 20 to 30 minutes instructional program on how to paddle and operate a canoe in a safe and productive manner. Students each got life jackets and paddles, and spent about 45 minutes on the water with JRA instructors. Students also learned about living systems, water quality, and the importance of being respectful and taking care of the common resources like the James River.
During the watershed state, students looked at an entire Chesapeake Bay watershed map and scale down to our James River watershed map in order to find out where we live in the watershed. This helped students identify what our biggest pollution issues are where we live within the James River. After discussing pollutants and what they are and where they come from (point and non-point source), they tested the James River water for DO, pH, Turbidity, Nitrates and Phosphates.
During the third station, students participated in "hunting macros." Each student was able to catch and see different macroinvertebrates such as dragon fly larva, mayfly larvae, water pennies, and more. Macroinvertebrate sampling helps to help identify the health of the river using biotic organisms. Scientists use these organisms to help identify the overall health of the river. Students worked in small groups to help create a biotic index value.