Published on Wed., June 30, 2021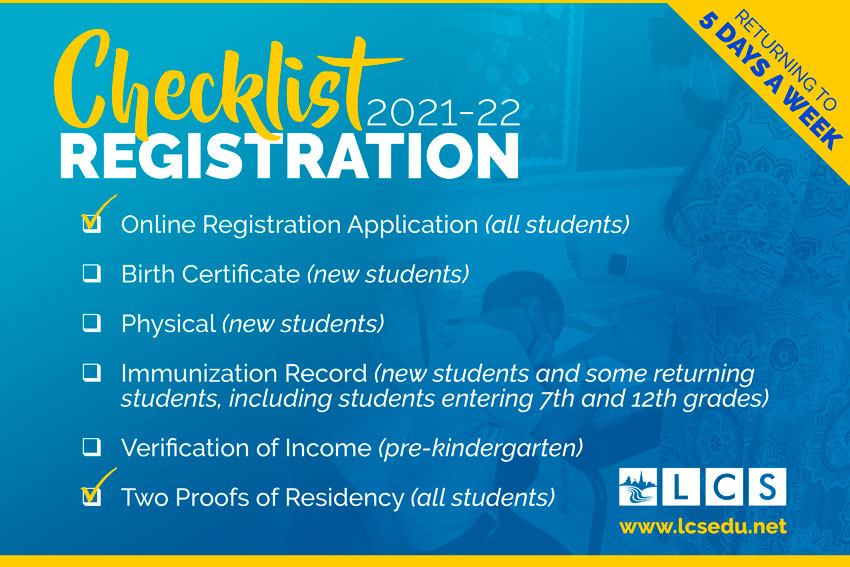 Dear LCS families,
We hope everyone is enjoying the summer!
As we prepare for the upcoming school year, we'd like to share some information and reminders with families. We are very excited that we will be returning to five full days of in-person instruction at all grade levels!
The first day of the 2021-22 school year will be here before we know it (July 14 for Bass Elementary and August 11 for all other schools), and we need your help to get ready!
Please be sure to complete your Online Registration Application (OLR) as soon as possible. By completing your OLR application early, schools are better able to plan for the upcoming school year.
REGISTRATION CHECKLIST FOR 2021-22
Online Registration Application (all students)

The link for Online Registration can be found under the "More" tab within the Infinite Campus Parent portal. Please note the link to the parent portal has changed to the new cloud-based site.
If you have questions about logging into Infinite Campus, contact your child's school or call the LCS Help Desk at (434) 515-5090.

Birth Certificate (new students)
Physical (new students)
Immunization record (new students and some returning students, including students entering 7th and 12th grades - https://www.vdh.virginia.gov/immunization/requirements/)
Verification of income (PreK)
Two proofs of residency* (all students)
*Proof of residency includes:
Current utility bill (gas, oil, electric, water, cable, landline)
Rent/mortgage agreement
Current rent receipts with address on receipt
Closing papers of home purchased
City registration of vehicle (The City of Lynchburg requires that vehicles be registered within 30 days of moving to Lynchburg)
HOW DO I PROVIDE THE NECESSARY DOCUMENTS TO MY CHILD'S SCHOOL
There will be no division-wide Enrollment Day this year, but be on the lookout for communications from your school about how to provide proof of residency and other necessary documents.
We look forward to continuing to serve your family in the year ahead!