Published on Mon., January 9, 2023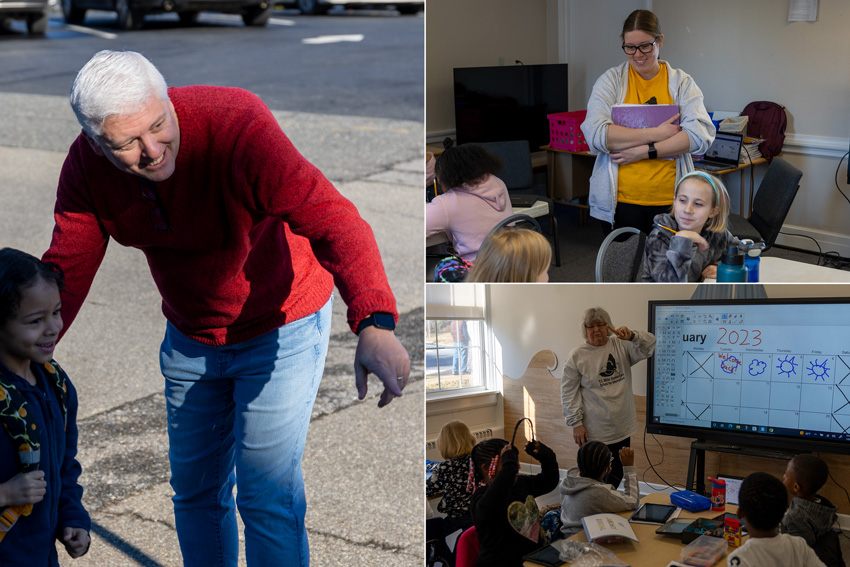 Thanks to a partnership between Lynchburg City Schools (LCS) and West Lynchburg Baptist Church (WLBC), T. C. Miller Elementary students were able to return to in-person learning today. Over the past week, T. C. Miller students have attended school remotely because of ongoing repair work in the building related to water damage. To ensure the highest quality, in-person instructional opportunities for students, LCS administrators had to find a temporary new home.
"Being present for in-person learning each day allows for students to participate in engaging learning experiences, collaborate with peers, and get support from teachers," said Sam Coleman, Chief Academic Officer at LCS. "Although we have temporarily moved instruction to West Lynchburg Baptist Church, our teachers and staff have committed to providing students with meaningful learning experiences each day."
West Lynchburg Baptist Church, who has been a partner with LCS through its Partners in Education (PIE) program for the last twelve years, opened its doors so that T. C. Miller students and staff could use classroom facilities on the first and second floors of the building. 
"This demonstrates how important it is to maintain partnerships with our local businesses and organizations," stated Ethel Reeves, Director of Equity & Community Relations for LCS. "We encourage these partnerships and continue to look for opportunities to work together to benefit our students."
"We're so excited about hosting T. C. Miller at West Lynchburg Baptist Church," said Dr. Chris Jordan, senior pastor at WLBC. "As a neighborhood partner, a community partner, we just love to open our doors, extend a warm connection, and provide a place for kids to have in-person learning, which is so vital at this time."
Courtney Hudson, school counselor at T. C. Miller, expressed her appreciation for the support from families and the community. "It's been great for the T. C. Miller community to feel the support of the Lynchburg community and to know that our neighbors, our partners, and our families all pitched in with anything and everything that they could offer for our students."
LCS plans to reopen the T. C. Miller building later this month.